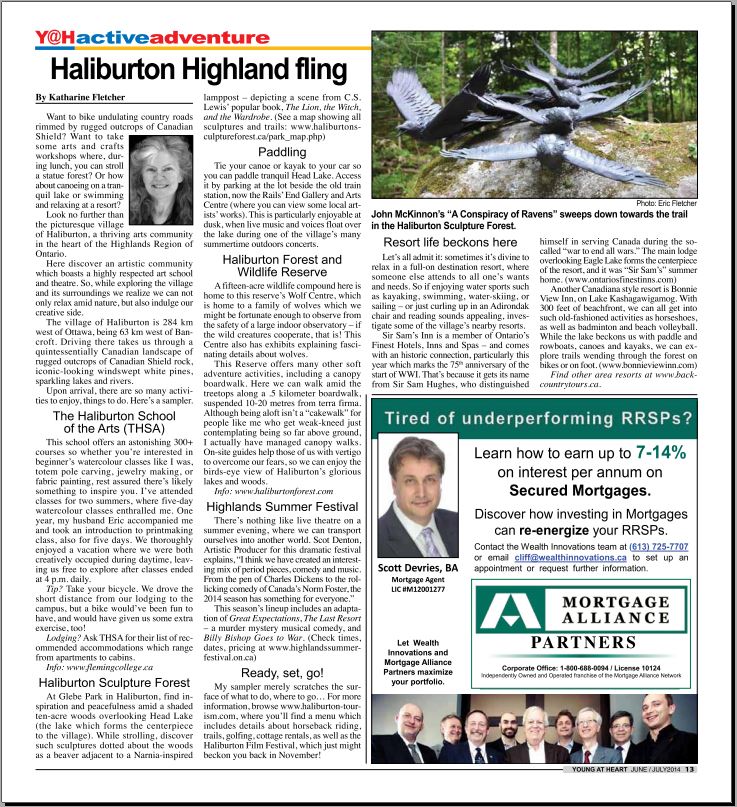 Explore Ontario's very own Highlands for culture, nature, adventure
Story by Katharine Fletcher; image by Eric Fletcher
Want to bike undulating country roads rimmed by rugged outcrops of Canadian Shield? Want to take some arts and crafts workshops where, during lunch, you can stroll a statue forest? Or how about canoeing on a tranquil lake or swimming and relaxing at a resort?
Look no further than the picturesque village of Haliburton, a thriving arts community in the heart of the Highlands Region of Ontario.
Here discover an artistic community which boasts a highly respected art school and theatre. So, while exploring the village and its surroundings we realize we can not only relax amid nature, but also indulge our creative side.
The village of Haliburton is 284 km west of Ottawa, being 63 km west of Bancroft. Driving there takes us through a quintessentially Canadian landscape of rugged outcrops of Canadian Shield rock, iconic-looking windswept white pines, sparkling lakes and rivers.
Upon arrival, there are so many activities to enjoy, things to do. Here's a sampler.
. . .